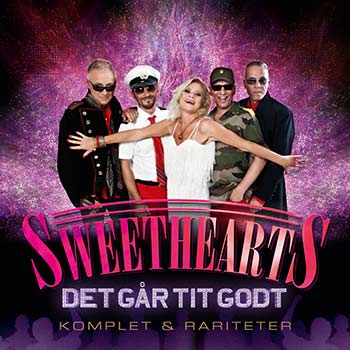 UDGIVET I 2012 I FORB. MED BOXSET.
1. Velkommen Til Verden (demo)
2. Lad Mig Blive Noget (demo)
To indspilninger fra "Der bor en tysker i os alle"-demoen fra 1991.
3. Sweet Keld & The Hilda Hearts / Det Vil Vi Da Blæse På
Sweet Keld and the Hilda Hearts fra Dansk Melodi Grand Prix i 19924. EEC-Blues (demo)
5. Stenløse (demo)
To demoer fra "hippie-pladen" 1995, begge sange fra Musikpatruljens plade fra 1970
6. Telegram Fra Sønderborg
Single fra 1997 produceret af Michael Bruun
7. Virus Og Bakterier (remix)
Remix fra 19988. Pas På Den Knaldrøde Gummibåd 
9. Hvis Tårer Var Guld
To live-udgaver optaget i Kødbyen i København med DR Underholdningsorkestret til programrækken "Musik i arbejdstøj" i 1998.
10. 2 Hug 1 Suk
11. Sommer & Sol (2000 version)
Ny udgave med vokal af Pernille Højmark
12. Lad Os Gøre Alting Sammen 
(Ny version m/ Zlatko Buric)
13. Russisk Vodka
14. Skal Vi 2 Kysse I Nat
Fra opsamlingsalbummet "Sweetest Hits"
15. Hey Baby
Single fra 2001
16. I Must Be Crazy
Fra Dansk Melodi Grand Prix 2005
17. Entantato Yo Viva (Så Længe Jeg Lever)
Fra Cuba i 200618. Der Er Noget Galt I Danmark
19. Søndag Morgen
Single med to numre, tidligere kun tilgængelige på iTunes.
20. Virus Og Bakterier
Remix fra 1998 (lang version)